How to convince customers to buy a credit card? 
Everyone hates spam calls bugging them in the middle of their work day. It's a fact you cannot ignore in 2023. But you got to call, convince and sell credit cards to make a living. Right? So, what's the best way to convince customers to buy credit cards on a call? 
Though there is no certainty that someone will buy from you, you can at least get better with a mix of proven tactics, frameworks, and best practices. In this blog, we'll cover some basic mistakes to avoid and share a proven framework that exploits the psychology behind buying. So, let's begin. 
TLDR
1) People hate credit card sales calls; 
2) You need to be valuable and creative in your opening line; 
3) Introduce yourself (not your company) & share references in the first 10 seconds of getting on a call; 
4) Personalize your 'standard' script to cater to their problem; 
5) Rope in their interest and keep following up.
Want to Boost Your Telecalling Performance? Signup for Callyzer's Free Trial Now

Mistakes to Avoid While Trying to Convince a Customer
Most credit call pitch calls I receive every day follow a similar pattern: 
Say their name and bank name;

Ask if I need a credit card. 
You know the result — I either don't pick up, or when I do (when I am in the middle of deep work, even to not look at the TrueCaller spam reminder), I say 'nahi chaiye' and cut the call. Do you know why you also receive the same treatment? 
Well, because you are not making any effort to make it about your prospect. Here are three mistakes you might make (like millions of other telecallers trying to push an average Indian to buy a credit card). 
Telecalling Mistake #1: Trying to Sell Straightaway
No one cares about what you want to sell them, even if it's for free. You can't just blurt out your offer and get done with it. 
Telecalling Mistake #2: Not giving enough Context 
Most telecallers need to find out where they got the number, the reference, or why they are calling. Well, a reminder — even our friends tell us why and when they call. No one wants to hear a stranger on call without some context. 
Telecalling Mistake #3: Not Valuing Other's Time 
Most people you call are in their office (just like you). Imagine how your manager would feel if you were busy chattering with a random dude on call during work hours. (The reason why you get an unresponsive tone or hasty disconnects). Try to get into their shoes and find another way to be more valuable. 
So, what to do then? 
Well, first of all, understand their pain point and context and gather some good reasons to be calling. Then, follow the framework below: 
Proven Framework to Improve your Chances of Sales on a Call 
You can keep playing the calling game blindly or improve your odds by trying something that has worked for millions of successful teams around the globe. 
Here are four simple steps (plus examples) to improve your sales performance and convince more customers on call:
Step 1: Always Confirm Their Name
Don't be a parrot when calling a prospect. Instead of just blurting out your sales script, be human and sound like one. 
Slow down and always confirm their name when they pick up your call. You can use an opening line like the one below: 
"Hello! Kya Meri Baat 'xxxxx' (Your Prospect's Name) Ji Se Ho Rahi Hai? 
This helps you create a sense of familiarity with your prospect, which will reduce the chances of the call being disconnected by the prospect. 
Looking for opening lines to convince customers to buy a credit card? 
Check our recent blog on the best opening lines to convince a customer on call.
Step 2: Introduce Yourself & References, if any 
If you want to overcome objections in sales, it's always good to have a reference or two when you call a cold lead. It helps turn them into a warm lead. 
For example, when you call someone and start sharing your offer, they are mostly confused or irritated about why you called them in the first place. 
But when you tell them that you got their number from a 'so and so' person as they were looking for a credit card, they are more attentive to hear (as you are talking about a solution useful to them). You can use a sales script as below: 
Mujhe aapka number xxxxxx se mila. Unhone bataya aap credit card lene me interested the. 
<pause for response> 
Mera naam xxxxx (your name) hai aur mere paas kuch useful deals hain agar aapke pas 5 minute ka time hai. 
Step 3: Show Them You Know Them & Personalize 
As said earlier, most telecallers are in a rush to blurt out their dull 'calling script'. Well, that's a blunder in 2023 when customers prefer brands and businesses personalizing everything.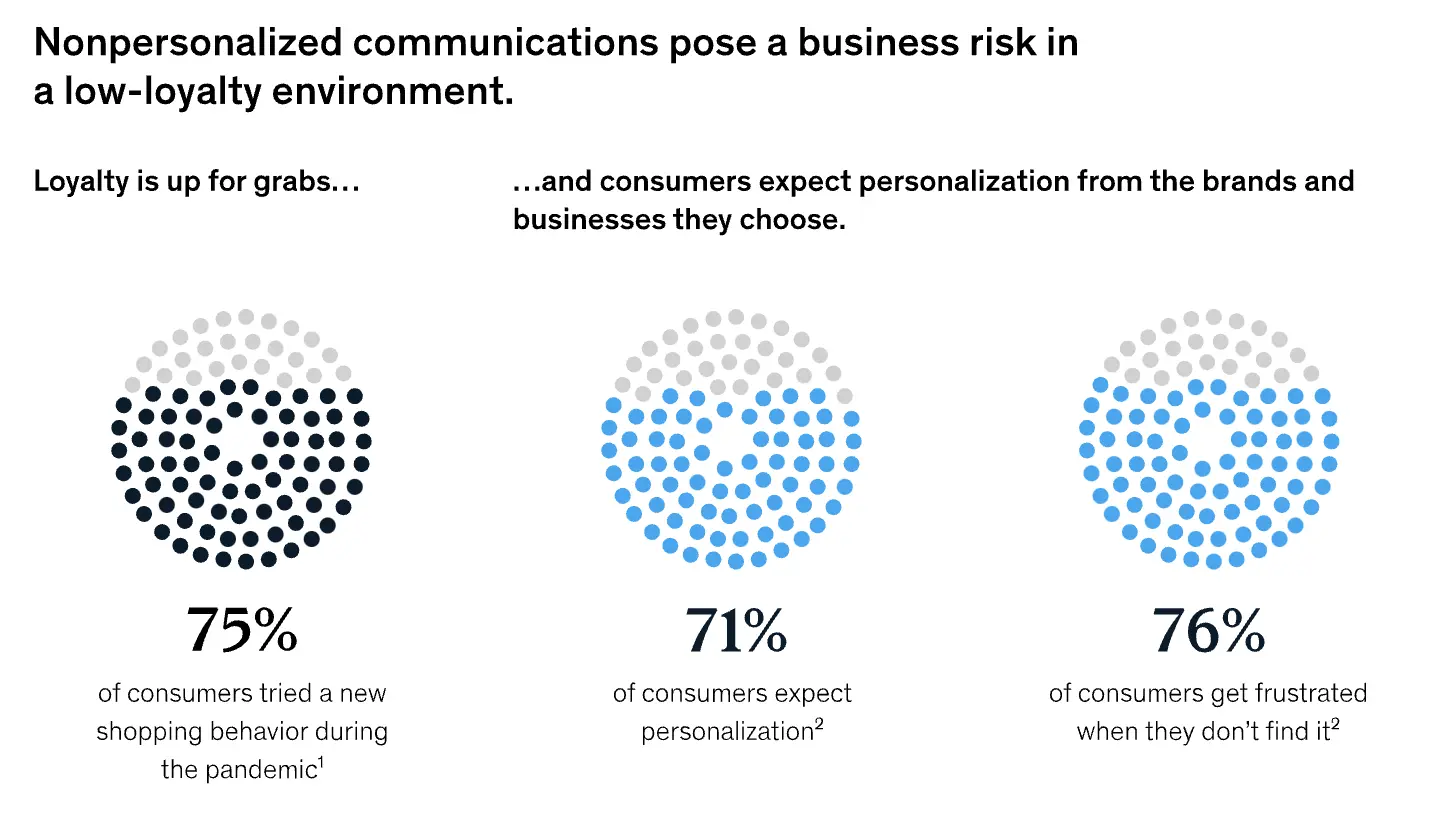 Source: McKinsey on Personalization
Indian consumers are notorious for not being loyal. We all know how soon we can ditch a brand if competitors offer better deals. Remember this while calling a prospect and personalize whatever deal you offer.
A good way is to show them that you know what they need (be empathetic) and personalize the offer. For example, if you know that the prospect loves to travel, tell them how much they can save when they pay using your credit card. 
You'll need to research a bit about what they are looking for before even hopping on a call. This is called audience research and is an important element of succeeding as a sales or telecalling representative.
Step 4: Find a Reason to Follow Up & Continue the Conversation 
Majority of Indians are not quick decision-makers, which means no one will agree to buy after just a few minutes of conversation. Instead, they need time to evaluate their options, think about them, and finally proceed with the decision. 
In such a situation, you can push hard to 'close' right on the call (and fail miserably), or open an opportunity to schedule a call with them again. You need to be attentive in understanding their objections and grab an opportunity to call them again. 
For example, if they say that they are in the office and are busy, ask them for a suitable time to call tomorrow (or on the weekend). Most of the time, this works. Plus, you get to research them more and personalize your offer further. 
It might sound counterintuitive to not 'close' the sale immediately, but trust me; the customer would appreciate the time you give them. This can even result in a good relationship, which opens up the gates for multiple referrals in the future. 
Resources to Help You Convince Your Customers 
Technology Can Help You Close More Deals. Give it a Shot Today
You might spend hours on excel sheets, trying to replicate a similar framework to convince customers. But the truth is — there's not enough time to manually keep track of everything. 
Instead, you should try using technology to save time, track trends, and reach out to your customers. A solution like Callyzer provides real-time insights on call performance, which you can use to improve your sales pitch, understand your success rates, and more. 
Sales managers can use Callyzer to track their agents' call activity, assign leads, and train the whole team to better cater to prospect apprehensions and sales objections. The best part — use from your smartphone.