The Ultimate List of Cold Calling Statistics in India
Every day, Indians receive thousands of cold calls from eager telecallers, giving the industry a notorious reputation for being 'spammy'. People hate getting cold calls. But do you know who hates it more — the person making the cold call? 
Imagine trying to dial and reach out to hundred prospects in less than 8 hours. That too, with high chances of rejection, prospects not picking up, or giving you a hard time.
Seems scary, right?
But do you know a telecalling team can phenomenally improve their performance by using data to your advantage?
Today, you can keep track of the best time to call, predict chances of success, and more, all using cold calling statistics.
At Callyzer, we are driven to make telecalling efforts more fruitful by sharing a detailed list of insights based on 5 crore telecalls made during the last 24 months.
So, bookmark this page and keep coming back to get the best insights to drive your telecalling efforts to success. 
1) Best Time to Call in India 
According to the cold calling statistics gathered after analyzing multiple industries, we've discovered the best time to call a prospect is 5:00 pm on a weekday. This is when cold calls register the highest connected rate, i.e., 61.79%. 
This means you are highly likely to be connected to your prospect when you call at 5:00 pm. Apart from this time, here are some more cold calling slots with high connect rates: 
Searching for data to validate these calling slots. Check out our blog on the best time to call as a telecaller in India. 
2) Dealing with Missed Calls 
It hurts to waste time as a telecaller in India. But do you know what hurts more — when you spend time gathering all the data, organizing your calling flow, and get a 'no response' tone at the end? The whole momentum gets lost. 
According to our internal data, approx 53% of cold calls are missed by customers. That's more than half of the calls you make every day. Do you know what to do with this information? 
Well, if you are aiming for a monthly sales target and believe that you need a fixed number of prospects in your pipeline, multiply it by 2. Anyway, 50% or more of your calls are gonna get missed. 
So, why not prepare from the beginning? This will save you from disappointments and improve your sales productivity. 
3) Average Call Duration 
The time you spend on a call is the most important data point as a cold caller. It tells you about the engagement rate of your prospect list — how eager the receiver is to listen to your pitch. If the outgoing calls you make are lengthier, this means you (and your teammates) are doing a good job explaining the product and have a higher chance of closing a sale. 

According to industry data, the average length of a connected outgoing call is 1.6 minutes. This is a generalized figure for multiple industries and tells that the callers and receivers hold a conversation for 1 minute 36 seconds whenever they connect. 
It's natural to assume that they are handling misconceptions, sales objections, and making the prospect aware of the benefits of a product or service. 
4) Busiest Time to Reach Out to a Prospect (that you should avoid) 
Most cold calls in India happen between 11:00 am and 12 noon. This means your prospects will already be on a call or actively trying to avoid the calls during this time. 
Ideally, you should not call your prospects during this time as they will already be bored/irritated/frustrated to listen to your pitch. Rather, you should pick a better time to call (as we shared above). 
This will ensure that the prospect is sufficiently interested in listening to whatever you have to tell them. Also, this will give you an opportunity to nurture the leads better and find an opportunity to set up a follow-up call. 
5) Spam Calls 
Everyone hates receiving spam calls. But 64% of Indians receive at least three or more spam calls every day. 
According to Statista's latest data, 51% of the spam calls received by prospects are from the financial services industry, followed by 29% for real estate services.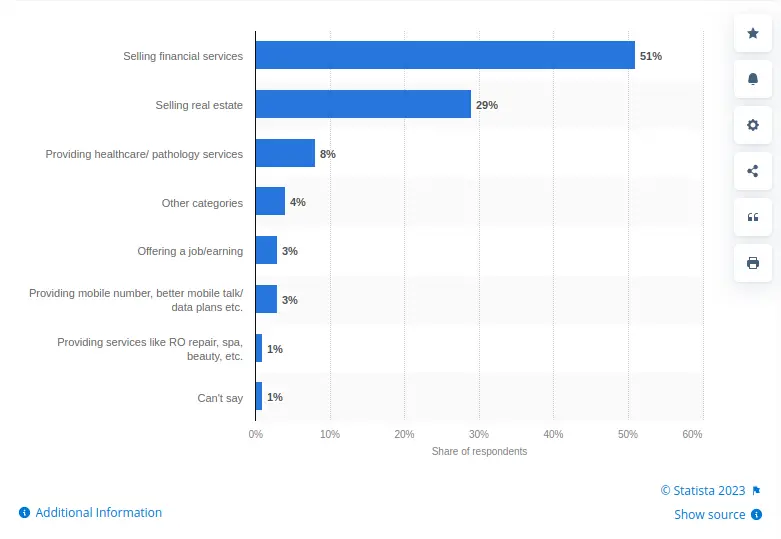 Source: Statista
If you are in these industries, you need to be really careful in planning your cold-calling campaigns. In the age of Truecaller, you risk not getting an adequate response for your telecalling operations or being blocked. 
You need to be really careful in improving your telecalling reputation, following best practices, and really warm up your telecalling stats. Here are a few resources to help you out: 
Supercharge your Telecalling Operations using Data with Callyzer.
Your cold-calling team needs relevant data to perform better in 2023. If you are a telecalling team/sales team/support team and wish to get focused insights using your own operational data, try using Callyzer. 
Callyzer connects to all your employee's Android smartphones and gives you real-time insights, data, and information on how to improve your calling operations. 
Make data your guiding light in the world of spam callers and stand out from the competition. Learn more about how Callyzer helps teams like yours.