"Telecommuting, one of the many forms of work-life flexibility, should no longer be viewed as a nice-to-have. These common stereotypes don't match reality-allowing employees to work remotely is a core business strategy. We need to de-parent, de-gender, and de-age the perception of a flexible worker." 
~Cali Williams Yost
After the pandemic hit, many marketing companies have developed a hybrid working model with a combination of remote and on-site telecalling teams. This hybrid model provides exceptional talents with escalated productivity and improved team member experience. Covid-19 has given an extra push to the leaders managing this virtual team. Managing a remote unit requires a unique skill-set; though this transition was quick, it was without any prior training for most leaders. As a result, many sectors have proven adaptable results while others face overwhelming challenges to efficiently managing the virtual working model. To manage such a hybrid model one needs an efficient telecalling software.
While managing a virtual telecalling team, the significant aspect each leader is concerned about is employee productivity and telesales. Even before the pandemic, managing a remote telecalling team was challenging. Here are the four key takeaways from managing virtual telecalling teams:
1. Resetting your expectations
Allow each team member to perform on their own. Give your employees freedom and flexibility to execute tasks on their terms.
2. (Over)Communicate  
Clear Communication is the key to managing a remotely working team efficiently. A diligent leader understands the importance of clear and precise communication. Various messaging tools or video calling apps can help in smooth communication.
3. Regular check-ins with direct reports 
Many managers question their virtual team's productivity resulting in a negative attitude and lack of confidence. Productivity reports, regular one-on-one check-ins are essential for trust-building.
4. Setting up a buddy system
Managing a whole virtual team single-handed can be exhausting for most managers. Instead, divide responsibilities amongst team members and pair-up individuals. Developing a buddy system helps you build team relationships and increase team productivity.
It is very alarming to suspect how swiftly, in the right circumstances, things can go worse for any operating team. This is the time where telecalling software comes in as a rescue. Wondering how this software can help you grow? Let's dive in:
Telecalling Software: Why is it essential for modern marketing analytics?
A telecaller software provides a detailed report of the call logs. It summarizes team-wide call details providing valuable insights for detailed analysis of your remote team's performance, which helps leaders make intelligent business decisions. A call tracking software can help telemarketers in various aspects.
1. Proving and Improving Marketing ROI
For any telemarketing team, even a single call is a potential client. To improve and elevate your company's ROI you need an effective outbound telemarketing software which tracks your inbound and outbound calls. No calls will be unanswered when your team is constantly inspected with the call tracking software.
When you have the right tool which helps you to figure out a detailed report of call-log statistics like exploring the total number of incoming, outgoing, missed and rejected calls handled by the entire team, it will help you with an improved marketing ROI.
2. Finding Areas of Improvement
When you rely on intelligent tools like call tracking software, which provides you with a detailed report of your team's productivity by monitoring  call-logs, lead management, lead reporting you always have a clear idea of which areas your team needs to focus on. You can use this call-insights to optimize sales calls, demos, product features, content marketing strategy, and more.
3. Qualified Lead Management
With innovative call tracking software, one can effectively manage qualified leads by bulk import and assigning each lead to a telecalling team, ensuring no lead remains unattended. With such efficient lead management, telemarketing sales are indeed touching the peak.
If you are looking for an efficient Call Tracking software to manage your remote or in-hour telecalling team, here we present to you - Callyzer: that motivates your telecalling efforts with detailed data analysis!
What is Callyzer? The idea behind the successful venture!
Callyzer is a smart call tracking solution, designed to energize your call activity tracking with data driven call insights. With great efficiency and precision users can track remote team's performance with a tap. Callyzer can be installed in your team's mobile device, which allows you to track their calling activities from a central, cloud based dashboard.
No matter where you are, you can readily access your telemarketing team's daily performance with deep analysis and statistics of call-log summary and lead management data. These insights give you a better understanding of team's productivity and performance which later can help you in better decision making for your brand success.
In this modern era, everyone is obsessed with keeping track of every minuscule detail, be it their mobile screen time or daily steps they take. Here the idea of Callyzer was born, there was no software or application that tracks one's call logs. Callyzer was initially developed to track personal call-logs. As the idea expanded, our team meticulously developed this concept for telemarketers. As the pandemic hit the world,call tracking software for a remote team became a necessity tool which gave us a boost in expanding the application with a plethora of features.
With 1M + downloads, 4.6 Play Store rating,3500 + Tracking phone numbers and 150+ clients worldwide Callyzer has been a very successful venture with a proven track record. With such strong client-base and immense success we are the leading call tracking software in India.
Extraordinary Features that Callyzer Provides
There are a plethora of features that Callyzer provides which can help you elevate your team's productivity and evolve your telemarketing sales. But, first, let's briefly understand the significant elements that Callyzer offers.
1. Intuitive Dashboard
Callyzer provides a highly organized and clean dashboard that helps you manage complex data efficiently. At first glance, users can effortlessly check out the number of calls, call duration, missed calls, and received calls daily, weekly, monthly, and yearly.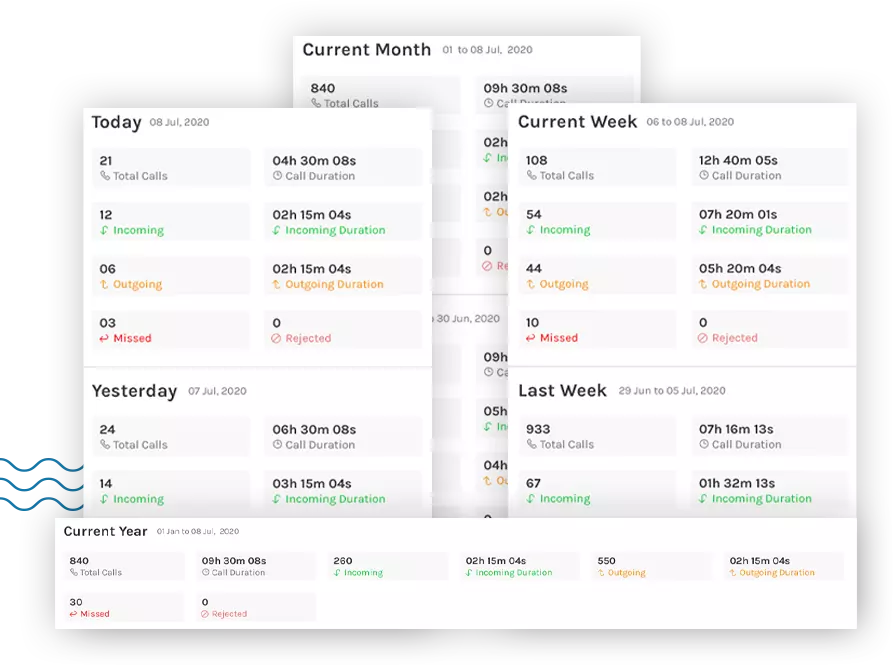 2. Manage Mobile Number
When you have a large telemarketing team, it gets very chaotic to manage each mobile number. Callyzer comes here as a rescue; it provides a  cloud-based central dashboard to manage each mobile number used by the employees across the organization. This central dashboard can easily edit, delete, or add mobile numbers.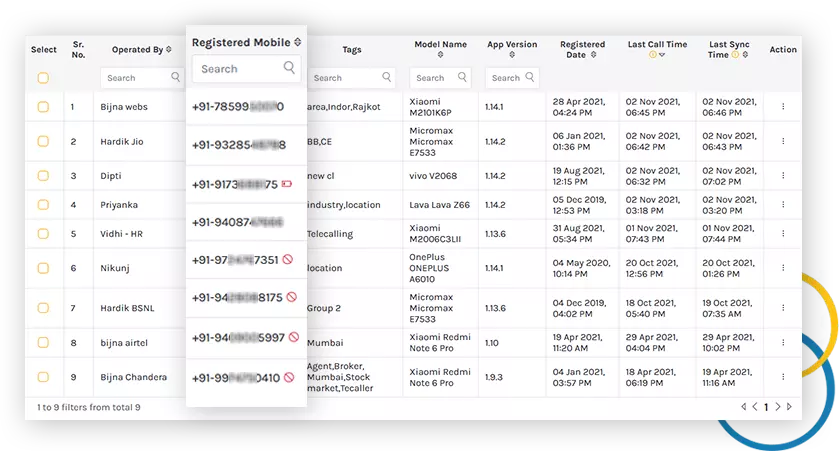 3. Detailed Team Reports
With this smart telemarketing software, you can daily obtain an accurate team report. Details like the total number of incoming, outgoing, missed and rejected calls of the entire team can be managed on the cloud to provide you with valuable insights.
4. Deep Analysis and Statistics
With Callyzer, you can never miss an update of any team member. Callyzer is committed to providing detailed analysis and statistics of each mobile number infused in the dashboard for tracking. Users are just a click away to obtain an accurate report of all communication activities like highest duration call, Top Dialer, Top Answered, Average Call duration analysis and so on.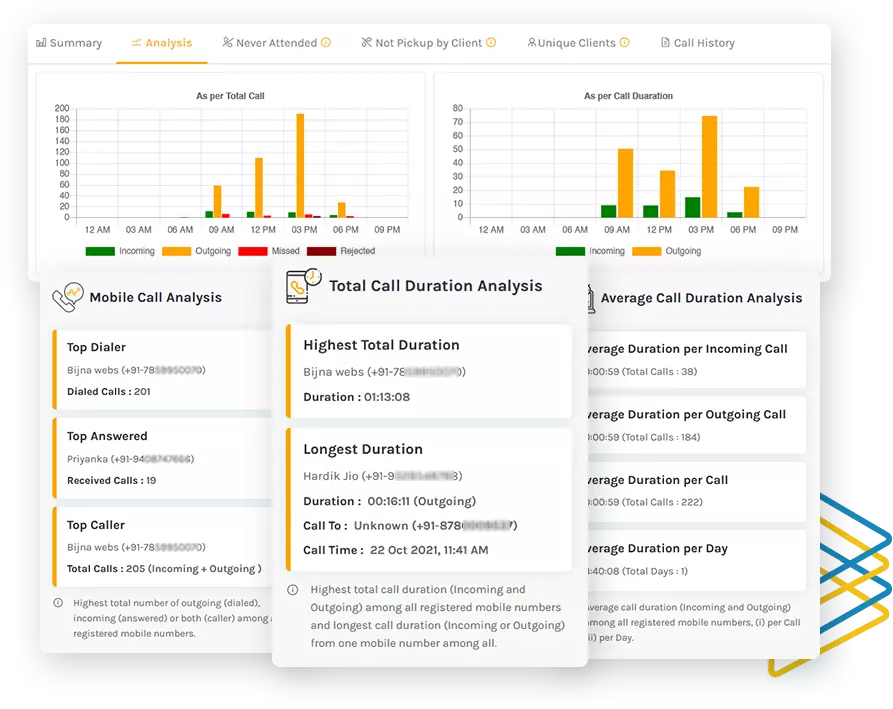 5. Receive Daily Updates in you mailbox
A passionate entrepreneur always wants to have a first glance at the detailed report and statistics of one's team productivity every morning. Callyzer has a fantastic feature where users can receive an automated daily update of the information in their mailbox.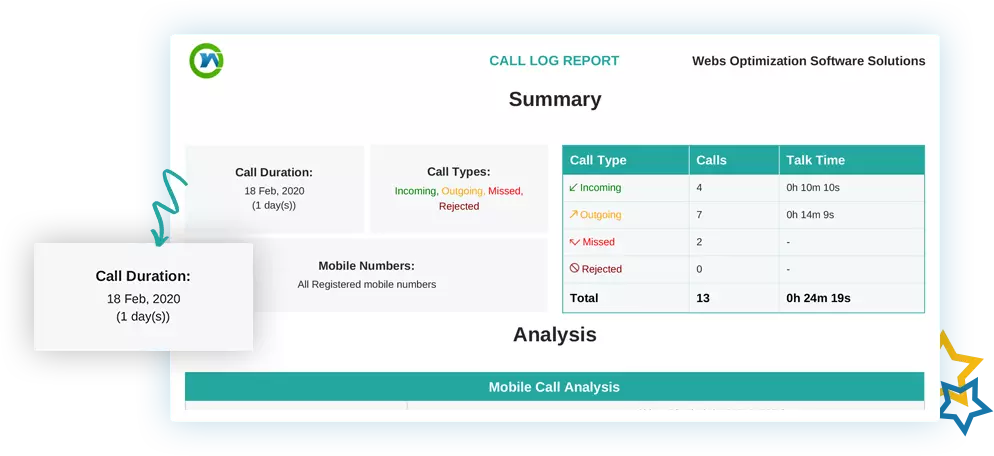 6. Lead management & Reporting
For any telemarketing team, Leads are the most important aspect to manage. Managing your leads efficiently can evolve your business and company's revenue. Callyzer has an innovative lead management system to bulk import leads and assign them to employees. Employees can easily view and communicate with their assigned leads using the app. Employees can update the status of leads with a note against a call log.
How Callyzer Can Help Your Business Evolve
Trusted by giants like NHS Health Care(Indian Red Cross), Europa Investment Properties and many more, Callyzer has efficiently created excellent business advancement. Callyzer is creating a boom in different spectrum of industries across the globe. Callyzer is effortlessly serving small, mid and large scale companies. With a proven track record, we have witnessed that callyzer has helped companies in various aspects like Increased Team Productivity, boasting brand value, improved brand-customer relationships, No missed leads, escalated company revenue, and so on.
This telecalling software enables you to maintain a stable customer communication medium that brings excellent customer satisfaction with unique features. So if you are looking for fantastic call management software, we are a click away! Book your demo now.